In this series, professionals share how they rocked — or didn't! — the all-important first 90 days on the job. Follow the stories here and write your own(please include the hashtag #First90 in the body of your post).
The first 90 days in any new job can feel almost overwhelming. The learning curve – whether you're starting your first job, changing roles within a company, or moving into a leadership position at a new business – can be intense. But what you do with those first 90 days can be critical to your success.
When I joined the workforce as a manufacturing engineer for GE, I – like most recent grads – was confronted with a totally new environment. My previous summer jobs had met one objective: make money to pay for school. But while laying highways and construction steel had some great character-building attributes, I found it a bit daunting to exchange my hard hat for a tie and white shirt.
I quickly learned the importance of building relationships. My fellow employees had many years of experience and were steeped in the GE technology and culture. Luckily, I was able to partner with a senior engineer, Ben Webb, who took the time to mentor and support me. It's a role I've tried to play with others along the way, and I encourage new employees to find a mentor, and senior employees to work with new recruits.
Among other things, my mentor taught me the importance of continuous improvement. This lesson – learned back in 1971– has shaped my work ethic throughout my entire career. I truly believe all of us, certainly myself included, have an infinite capacity to improve upon everything we do. To this day, I push myself and others in a constant attempt to do better.
Make continuous improvement your mantra, and you can differentiate yourself on the job within the first 90 days. Go back to a task you've "completed" and challenge yourself to enhance it. You'll be noticed, and you'll begin to build your brand within the company.
However, as you move up the corporate ladder, that push for improvement must be handled delicately. While it's OK to bend the system, if you push too far too soon, you can break it – and run the risk of alienating your leadership team, your associates, or your board of directors. It's a fine line, that one between bending and breaking, and it's very easy to cross. Once you have, you may find yourself in a difficult situation: Often, the toughest things to change are those that you have put in place yourself.
To avoid that, develop a relationship of trust with key colleagues who will give you candid feedback. After all, it's very easy to convince yourself that you are making all the right moves when no one disagrees with you. So, within the first 90 days, go to your colleagues' offices or cubicles and get to know them — learn about their families and their dreams, how they feel the business is performing, what needs to be improved, and what they think the business should be doing, or should stop doing altogether. In a top leadership position? Meet the directors one on one and get to know them individually. Ask what's important to them, and what strategic direction the business should be taking.
Do your homework, too. Immerse yourself in your company's product and service offerings. Learn about the customer base, the largest shareholders if it's a publicly traded company, and the analysts who are studying it. Map out the broad range of constituents who are critical to success — consumers/customers, employees/associates, the community, government and public relations.
And ask questions. Lots of questions. There's a high tolerance and acceptance in those first 90 days since your colleagues realize you are trying to come up the learning curve.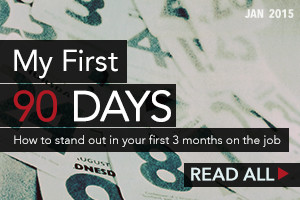 If you aren't a little overwhelmed with all this, you should be. As a new employee, you must be a dry sponge and immerse yourself in the bucket. Your demonstration of speed, commitment and execution can help create a culture with a bias for action. The pace you set in those first 90 days is the pace you'll keep.
I've been fortunate over my 40-plus years in the business world to have worked with great men and women who have mentored me, argued with me, and given me the feedback I needed to make tough decisions. I attribute their influence to my success — and I encourage you to seek out such colleagues to help you grow and succeed in your own endeavors. Do it within the first 90 days if you can. But if you're long past that time period, it's never too late to reach out, learn and grow.