In this series, professionals thank those who helped them reach where they are today. Read the posts here, then write your own. Use #ThankYourMentor and @mention your mentor when sharing.
I'm fortunate that my name is often associated with Jack Welch, the dynamic leader who saw GE's value rise 4,000 percent while at its helm. And indeed, there was no better mentor than Jack as I moved up the ranks at GE. I regard him today as both a mentor and trusted friend.
But while Jack was and still is a major influence in my life and career, I have been very fortunate in my 44-plus-year career to have had many wonderful and supportive people around me, especially my family and parents. In addition, there's a long list of individuals who helped mentor, shape and develop my business acumen and leadership skills.
When I graduated from Western Illinois University in 1971, the job market was extremely tight. I sifted through the newspaper classifieds, pounded the pavement, and was pleased to land two entry-level jobs – one selling life insurance and another as a management trainee for the Ponderosa Steakhouse. Then came my lucky day. I was offered a manufacturing engineering position at GE's Appliance Park in Louisville, Ky. With a salary of $9,600 a year, I went to work in the refrigerator division.
I recall that first day in Building 5 as if it was yesterday. I nervously met my manager, Jack Lang, who turned out to be a soft-spoken and tremendously patient mentor. My previous jobs had been very physical – I had worked on highway crews, pouring asphalt and constructing steel – so this was my first exposure to the corporate world. It was a big leap, from heavy physical labor to heavy mental labor.
Although I was a total unknown to him, Jack Lang saw something in me, and he took me under his wing, helping me avoid missteps at the huge corporation known as GE and coaching me on corporate culture and policy. His decision to take a chance on me helped shape my own mentorship style going forward. I, too, find myself taking chances on individuals who I think share the characteristics needed for leadership.
At the time, I shared a cubicle with Ben Webb.  Ben also showed me the ropes, walked me about this massive factory, and introduced me with kindness as the "new kid."  Ben had stature, which was very helpful.  I got to know his entire family, and we became good friends.
Then there was Don Weiss, the plant manager who we all thought of as "God" in that environment.  He, too, took an interest, and helped me move quickly through a variety of positions as I broadened my base and my support network. Soon, I was moving about every 12 months to positions with increasing responsibility and accountability.
When I think back to those early years, I recognize I was incredibly fortunate. Most people are lucky to have had one great mentor out of the gate, and I had so many! In Jack, Ben and Don, I had more than bosses; I had men who all possessed a rare combination of respect and compassion for the people they worked with, and they made sure I knew there was so much more to a job than punching a clock or drawing a paycheck.
That was the '70s, and I was in my mid-20s – and I was given the opportunity to present to one of three newly appointed sector vice-chairmen at a technology conference. That vice-chairman, Jack Welch, was just one step away from heading all of GE. I, on the other hand, was buried on Page 2, if you listed out all of the positions ahead of me in the GE hierarchy.
I was very nervous, but I had done my homework, putting in countless hours of preparation. Jack was impressed with the technology (sublimation, a printing process that would displace the more costly silk screening) as well as the thoroughness of the presentation. From there, Jack asked me to participate in a couple of special task forces, and our relationship was born.
His recognition taught me early on that I couldn't just do my job if I wanted to be noticed. Instead, I learned, I had to do that job better than most others would. To this day, when I think I'm done with a project I go back and enhance it, often more than once.
Jack taught me to see the world the way it is – not the way some people would like it to be. I learned that it is far better to challenge myself and win than to be driven to the same point anyway by someone else. I learned that it is critical to focus all of my energy on the job at hand, and let the next opportunity take care of itself.
I learned to look forward, at what might be the business disruptors, and plan for them – to always be thinking about what could go wrong, and how to minimize or prevent it from happening. At the same time, there are a lot of smoke and mirrors involved when people talk about a five-year forecast. Look at the current year, focus on the core business, and perhaps extend into the next. CEOs today have never faced so much complexity, between the geopolitical and financial challenges and the PC police, and it's very hard to predict much more than a year ahead.
But back then, Jack moved me from position to position to test his thesis of the portability of leadership, and I went to different businesses to different industries with different technologies. Jack wrote about my business acumen in his book, Straight from the Gut, "The numbers he was delivering were the best I had seen in my 40 years at the company and could well be the best operating performance of any business in GE history."
Work for me went from vocation to avocation. Each new challenge – like taking a company such as GE Power Systems from worst to first – was a thrill. Throughout this time, Jack was simply an unbelievable mentor, role model, coach, and friend. He knew my wife, my children's names, and what really drove me in business.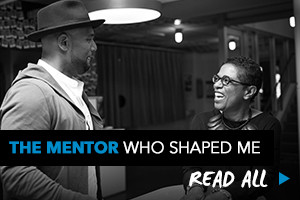 Another major influence during my GE days and beyond was Roger Penske, chairman and CEO of Penske Corp. He was on the GE Board of Directors and later agreed to join The Home Depot board, where we continued our professional business relationship and his mentorship. When I transitioned to run the new Chrysler Corp., Roger was there again, providing valuable support in Detroit, given his outstanding knowledge and success in the auto industry.
I learned so much from Jack, Roger and many others. Some people are adamant about growing vertically as fast as they can, but I've found that a broad base of both horizontal and vertical promotion gave me a diversity of experiences that I would never have received if I'd always simply followed the financial reward.
But perhaps most of all, these leaders instilled in me a child-like curiosity, and I've held onto it ever since. And that's the biggest takeaway, and one I strive to always follow: Listen, learn … and then lead.
During his 40-plus years in the business world, Bob Nardelli has grown the sales and profits of a number of multi-national corporations including the General Electric Co. and The Home Depot, and he helped save Chrysler and its iconic brands when the American auto industry began to collapse. In addition to his board and volunteer service, he is the founder of XLR-8, LLC, Investment & Advisory Co., which helps companies identify weaknesses and improve performance. Read more about Bob at www.bobnardelli.com.