In this series, professionals share how they embrace the entrepreneurial mindset. See the stories here, then write your own (use #BetheBoss in the post).
You can be the boss, whether you know it or not.
That's right. Even if you have a boss, you can and should be in charge of your own career destiny.
I can already hear you disagreeing: "No, I can't be. Layoffs happen, priorities change, new management brings in their own team…" And you are absolutely correct in all of that. But still, I say, you can and should take ownership of your performance — and the skills, preparation and leadership that go along with it.
From the earliest days of my career, when I was a manufacturing engineer at GE's Appliance Park in Louisville, Ky., I felt completely responsible for my performance and contribution. Which made me (sorry!) the boss of me.
The sooner you, too, come to this conclusion — dare I call it an epiphany? — the happier you will be in your own career. Challenge yourself because you want to, not because someone is telling you to do so. Your attitude should be, "I think this would be helpful for our business," rather than, "Those guys upstairs are asking me for this."
That same test can be applied if you decide to strike out on your own. Are you making the move to get away from something?  Or do you actually see yourself as the person "in charge" — the man or woman who is totally responsible for getting it done? If the person above is driving your performance, you may be in for a big failure.
And, as uncomfortable as things might be where you are, as an entrepreneur you'd better be prepared to handle a multitude of issues on your own. Unless you look into a mirror, you probably are not going to see anyone else there to help.
In today's global marketplace, you face the broadest range of constituents, opportunities and obstacles that I have ever seen. Yet, venturing out on your own means you won't have the easily accessible resources available within a corporation. You'll need to take the initiative to continually acquire the knowledge needed for success.
Face the fact, too, that you'll need to replace the words "work-life balance" with "work-life choice." As an entrepreneur, you should expect to put in additional time to build your business, so you likely won't be working 9-to-5. Don't want to give up your free time? Then don't strike out on your own!
Still thinking you want to do this? Here are a few more things to consider. First, if you are going to need funding, chances are you'll need more than you think you will. Second, you should prepare for uncertainty. For every successful IPO, there are a hundred that have failed. And even the most successful IPOs over the past few years are trading below their opening price. You can blame the economy if you want to, but you must prepare for this very real situation.
Finally, when writing your business plan, focus in on your differentiators. How are you better than the other offerings out there? Do you have a break-through product or service, or perhaps a product that you have repositioned with superior customer service? Even your personality can serve as a differentiator, but if you don't have an exceptional offering, you will fail.
My advice to you is backed by true experience (yes, I have the scars to prove it). I have been on both sides of the corporate table, and have worked for corporations with a variety of business models, products and cultures. From all that, I learned that your leadership style will need to change, depending on the environment you are moving into. Luckily, however, about two-thirds of the management training and skills you have developed along the way have tremendous portability, whether you're working at a huge legacy corporation, a retail business, or your own firm. The other third of your toolbox will be specific to your industry, so absorb as much as you can.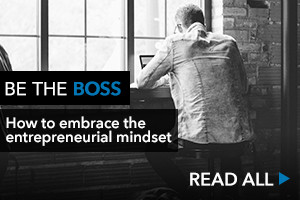 After many years in the corporate world, I began working with private equity firms, and I realized the business acumen and experience I had accumulated could bring value to them. Even after 40 years in the business world, I wasn't ready to retire, so I focused my company, XLR-8, on family-run businesses that need the capital structure to continue to exist. The investors I work with are patient, as long as we have solid returns and steady, sustainable predictive performances that can be enhanced with the synergies we develop to drive productivity. I've stayed away from the so-called "unicorns," defined by Fortune CEO Alan Murray as "the roughly 130 venture-backed startups with valuations exceeding $1 billion." There is increasing speculation about many of these startups, such as Theranos, a blood-testing firm now under fire for reportedly not using its own technology.
If you, too, want to become an entrepreneur because you know you can add value, just make sure you understand the risks, have a product or service that can be differentiated from others out there, and are willing to put in the time and effort to succeed. No matter what, be your own boss — and let me know how it goes!
During his 40-plus years in the business world, Bob Nardelli has grown the sales and profits of a number of multi-national corporations including the General Electric Co. and The Home Depot, and he helped save Chrysler and its iconic brands when the American auto industry began to collapse. In addition to his board and volunteer service, he is the founder of XLR-8, LLC, Investment & Advisory Co., which helps companies identify weaknesses and improve performance. Read more about Bob at www.bobnardelli.com.