In this series of posts, professionals reveal their best antidotes to work stress. Read the posts here, and then write your own (use #OutsideWork in the piece).
I was introduced to the idea of work-life balance when I met with my new human resources representative in Cleveland, Ohio. This was back in the late '70s, and I had just been promoted to a management position. The HR executive drew a circle and divided it in half – with 50 percent marked "work" and 50 percent marked "personal." The "personal" category then could be divided into "family," "recreation," "travel," etc. While he didn't actually use the word "balance," he politely warned that as I took on more responsibility, I would need to be able to mentally handle the challenges of the job while not cutting into my personal time.
I already understood how tricky that balancing act could be. In 1971, I had started my first "real" job right out of college, and was married that same week. So while I was excited to jump right in and learn all I could about the company and its culture, I had a high sensitivity to both "masters." It was a balancing act, for sure.
Back then, primarily working 8 to 5, balance seemed doable. Outside of work and family, sports dominated those early years for me. I was able to enjoy a weekly round of golf. I went back to Western Illinois University each year to play in the alumni football game… until my first child came along, and I decided this full-contact thing was not such a good idea. Living in Louisville, we always attended the Kentucky Derby, along with an assortment of college friends who just happened to be driving through town the first weekend in May.
Non-sports? Well, there was disco, and I practiced my "Staying Alive" moves in a white suit, à  la John Travolta. We always had pets, especially Irish Setters. I took the kids skiing. Partly out of necessity, I tinkered with our Chevy Chevette.  And I went to school two to three nights a week to get my MBA.
With each job of increasing responsibility, I cut back on more of my hobbies — including my unfortunate golf game — in favor of family. But while the job was demanding, corporate America at the time was still pretty much focused on domestic operations. In those days, we certainly didn't give the global economy a lot of thought.
Fast forward to today. The baby boomer generation has gone from pencil and paper to analog technologies and through a digital transformation. There's Big Data, data analytics, and the Internet of Things – terms we are all still adjusting to. Corporations now are globally focused (I've personally traveled to more than 100 countries for work). We're at the mercy of our smart phones, 24/7.
We have transitioned, then, from the age of work-life balance to what I now call work-life choice. As the rate of change continues to accelerate dramatically, each of us must continue to make tradeoffs in real time.
So how have I navigated the business world and continued to be thoughtful and responsive, both at work and at home? First, I was blessed to have my wife of 45 years by my side through more than a dozen geographical moves. My family, including our four now-adult children, are totally supportive. With three grandchildren, my spare time these days is spent relearning how to assemble every imaginable toy, walker, and car seat (which I'm constantly amazed by; we didn't even have seat belts when I was growing up!). I creakily step over baby gates at every doorway.
We continue our family vacations, too. When our children were young, we spent many vacations on long drives to ocean locations, but the Holy Grail was Disney World in Orlando. The first time we could afford to stay one night on Disney property, we were hooked. Since then, we go almost every year, now with the grandchildren in tow, too.
These days, I occasionally enjoy skeet and trap shooting. And one of my most relaxing and yet exhilarating activities has been NASCAR. Attending a race as a sponsor to Coach Gibbs and Tony Stewart was an eye-opening experience. Sitting on the pit box with an earphone, I was able to listen to the spotter on top of the grandstand giving direction to the driver. The level of trust needed is phenomenal as the driver instantly powers his vehicle to 200 mph. In fact, everything about the sport ties into business, especially the teamwork on display as four tires are changed and two cans of gasoline replaced in under 12 seconds. Finally, every step is taped and reviewed for continuous improvement.
Another of my hobbies, reading, also ties directly into the business world. I think it's extremely important to stay relevant, and I read a variety of newspapers and business journals. That, plus what I glean from other media, helps me remain on top of the markets and global issues. As a result, I've been tapped to co-host several business shows, another venture that I thoroughly enjoy.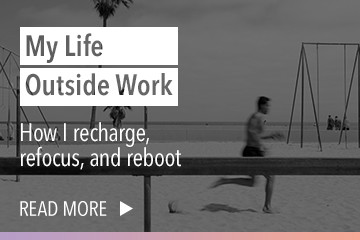 Giving back is of critical importance to me, too. I am on the boards of a few non-profits, such as the Wounded Warrior Project, Cristo Rey Atlanta, and Savannah College of Art and Design. Over the years, I've also worked with Points of Light and KaBOOM!, among others, and I also served on the President George W. Bush Council on Service & Civic Participation for four years.
I've known many solid contributors who decided to take a step back from the corporate world by deliberately turning down a promotion or leaving corporate America altogether, choosing to serve the community and their families instead. Have they achieved balance? Maybe. But in reality they, too, made work-life choices to meet their own needs and priorities.
So, while that 50-50 pie seemed great in theory, our choices along the way can change the pieces considerably. After all, each step we take is also a decision about how we want to control our lives. For me, personal value and purpose are increasingly important, both in my business and family decisions.
I urge you to take "could-a, would-a, should-a" out of your vocabulary, and slice your pie in the way that works best for you.
During his 45 years in the business world, Bob Nardelli has grown the sales and profits of a number of multi-national corporations including the General Electric Co. and The Home Depot, and he helped save Chrysler and its iconic brands when the American auto industry began to collapse. In addition to his board and volunteer service, he is the founder of XLR-8, LLC, Investment & Advisory Co., which helps companies identify weaknesses and improve performance. Read more about Bob at www.bobnardelli.com.